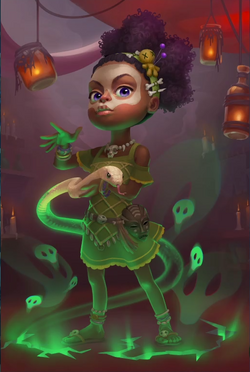 Maria is an unlockable spirit Hero introduced in Patch v1.1.0.
Marie as well as all her rewards are illustrated by Anastasia Gorbachyova.
Background and Lore
[
]
Marie is a prodigy in healing alchemy and speaking with the dead. Through careful study and preparation, she becomes momentarily possessed by the recently departed, in order to gain their skills and aid.
Mechanics
[
]
Passive
[
]
+2 EXP if two or more units enter your graveyard each turn.
Banish all actions that enter your graveyard.
Level Up Rewards
[
]
Level 2
[
]
Create Eau D'Ange.
Given Marie's passive banishes all actions that enter your graveyard, Eau D'Ange tends to be returned from Banish to your hand.
Level 3
[
]
Possession: Marie gets "Hero Active: Pay 1 mana. Banish the top unit of your graveyard. Pay its Summon, Entomb and Active abilities."
Level 4
[
]
Create House of Zombi.
Changelog
[
]
Prior to Patch v1.1.1, Marie's passive to banish actions could only trigger up to 13 times a turn due to the Rule of 13. After the patch, hero passives were made exempt from the Rule of 13.
Trivia
[
]